Wrightsville Beach Attractions
Wrightsville Beach Museum of History
The Wrightsville Beach Museum of History, housed in the turn of the century Myers Cottage, exists to preserve and to share the history of Wrightsville Beach. Visitors to the cottage will find a scale model of Wrightsville Beach circa 1910, exhibits featuring the early days of the beach including Lumina Pavilion, our hurricane history and information about the interaction between the people and our natural environment which have shaped the 100 year history of Wrightsville Beach.
303 West Salisbury Street
Wrightsville Beach, NC 28480
Cape Fear Paddleboarding
Cape Fear Paddleboarding, offers stand up paddleboarding (SUP) lessons, tours, and fitness classes for all levels. Regardless of age or weight, it is a great outdoor activity for the mind and body. Our professional instructors have the patience and enthusiasm to make your SUP experience safe and exciting. Explore the salt marsh on a sunrise or sunset tour, challenge yourself in the open ocean, or build strength in our SUP fitness classes. We offer a style of SUP for everyone!
222 Causeway Lane
Wrightsville Beach, NC 28480
Shopping at Lumina Station
Welcome to Lumina Station, the shopping village by the beach. Here you will discover a charming collection of locally owned boutiques, distinctive restaurants and cafes that you won't find anywhere else in Wilmington or Wrightsville Beach, NC.
Winner of Coastal Living magazine's first-ever award for contextual design, Lumina Station's beautiful landscaping, whimsical sculptures and storybook bridges make for a truly unique local shopping experience. You could even find yourself immediately at home in a rocking chair to claim as your own – surrounded by friendly folks happy to give you a smile. Whether you come to shop, dine or relax, you'll enjoy our one-of-a-kind atmosphere, where good times are a local tradition.
1900 Eastwood Road-Ste 10
Wilmington, NC 28403
WB Surf Camp
WB Surf Camp offers learn to surf camps for all ages! Our weekly day camps take place at Wrightsville and Kure Beaches for ages 7 and up while our Guppy Ocean Safety Adventure Camps are for ages 6-10. Our Wrightsville Beach Teen Overnight Camps are for ages 11-16 and our Teen Travel Camps for ages 14-17 take place in the Outer Banks, California, Hawaii, Barbados, and Costa Rica. Camp Offerings include: • Marine Science Camps (ages 6-10); Days Surf Camps (ages 7-11); Teen Overnight Surf Camps (ages 12-17); Adult Surf Camps (18+); Surf Lessons (5+). Bring your friends or come by yourself and have an unforgettable time that will change your life forever!
222 Causeway Lane, Wrightsville Beach, NC 28480
Mayfaire Town Center
Mayfaire is a wonderfully innovative place to shop! Designed to emulate the sense of community and friendly commerce found at the center of town, this shopping haven is one of those rare places where you can go with a diverse shopping list and find everything you're looking for in one shopping center.
Come with your friends or your family. Whatever you're looking for, you'll find it here. And no two visits are ever the same. So explore all that Mayfaire has to offer. Anytime. For Any Reason.
Shop. Dine. Live. Work. Play. Stay.
6835 Conversation Way
Wilmington, NC 28405
Wrightsville Beach Scenic Tours
Wrightsville Beach Scenic Tours and The Cape Fear Naturalist offer a wide variety of tours and excursions for visitors to the beach and year-round residents alike. Whether it is a quick hour turn around the harbor or a day long birding trip to a pristine barrier island, you will see more, learn more and enjoy more.
275 Waynick Blvd
Wrightsville Beach, NC 28480
Shopping at The Forum
At The Forum, charming boutiques sit side-by-side with fine dining, sidewalk bistros and gourmet cafes. Shoppers can choose from a wide array of gifts, womens' fashions, jewelry, antiques, imported furniture, handmade papers and gourmet foods. When the shopping is done, they can relax with an exquisite meal served al fresco under The Forum's copper-roofed dome, or simply enjoy cappuccino and chocolates in an intimate cafe accented with original art and sculpture.
1111 Military Cutoff Road-Ste 251
Wilmington, NC 28405
Airlie Gardens
Airlie Gardens is a 67-acre park that has attracted nationwide attention for it's breathtaking combination of formal gardens, unique wildlife, historic structures, walking trails, sculptures, views of nearby Bradley Creek, and more than 100,00 azaleas.  Airlie Gardens is also home to the 467 year-old Airlie Oak Tree.
Airlie Gardens hosts a myriad of events from concerts to it's famed Enchanted Airlie, where the garden is lit with thousands of lights for a spectacular display. Airlie Gardens is open year round.
Bellamy Mansion
The Bellamy Mansion is one of North Carolina's most spectacular examples of antebellum architecture. The historic house turned museum is open for tours and gives a fascinating glimpse in to life in the pre-war South.
https://www.bellamymansion.org/
Battleship North Carolina
Step aboard the Battleship North Carolina and step back in time and let history come alive through the crews' stories. Open for tours all year round, this remarkable ship is docked in Wilmington. Go below deck and see the real living quarters, the controls, and even man the artillery!
Cape Fear Serpentarium
The Cape Fear Serpentarium is a unique facility located in the downtown district of historic Wilmington, NC. The Serpentarium is a 10,000 square foot structure which features 54 displays which house over 40 venomous species of snakes, 5 large bays with giant constrictors, and habitats housing 3 species of crocodile. Other displays are the homes for several large and exotic species of lizards. The Cape Fear Serpentarium is recognized as one of the world's foremost reptile collections.
https://www.capefearserpentarium.com/index.html
Carolina Beach Boardwalk
Ranked one of the top 10 boardwalks in the country by Food & Wine magazine, a stroll on the Carolina Beach Boardwalk features classic seaside family fun with shops, restaurants and nightlife entertainment. The boardwalk and amusement park is open Memorial Day through Labor Day every year. This local spot has become a favorite landmark for both vacationers and residents alike, embodying the spirit of summer at the beach.
https://www.visitcarolinabeachnc.com/things-to-do/carolina-beach-boardwalk
Old Wilmington Ghost Walk
Come hear the dismal accounts behind our most unfortunate wretches and discover the poor lost souls that still linger in the Port City. Hear tales past and present, including the most recent encounters with these spirits. Stroll beneath a canopy of centuries old live oaks, their cryptic limbs dripping with Spanish moss, and hear tales of murder and mayhem. And if you dare, tread upon the unmarked graves of thieves, murderers and other less pitiful souls.
https://hauntedwilmington.com/ghost_walk.html
Wilmington Trolley Co. Tours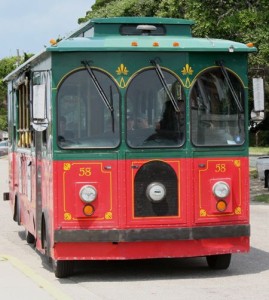 Jump on board a trolley and weave through the bumpy cobblestone streets and hear the stories of the homes, people, and events that make Wilmington the historical city it is. The 45-minute tours depart from Water Street between Market and Dock Streets.
https://wilmingtontrolley.com/tours.htm
Mayfaire Town Center
Mayfair Town Center offers the best in name brand shopping all within walking distance, great dining options, a movie theater, and so much more! Also, home to summer concerts and kids events, there's always something happening at Mayfaire!
Wilmington Hollywood East Location Walk
Join one of Hollywood East's most entertaining & self-important Directors on a name dropping, movie & TV extravaganza through one of America's largest living film sets; Wilmington, North Carolina! See real locations for some of Wilmywood's biggest movies & TV Shows.
https://hollywoodnc.com/hollywood_location_walk.html
Horse Drawn Carriage Tours- Springbrook Farms
Take a horse drawn carriage tour through downtown historic Wilmington NC and hear tales of the Old South. This charming tour will give you an up close look at the port city. Tours start on Market St. between Water and Front Streets.
https://horsedrawntours.com/index.html
Sea Turtle Camp
Sea Turtle Camp is a life enriching marine biology summer camp experience for all ages. Have you ever looked into the enchanting eyes of a living, breathing 200 pound sea turtle? Sea Turtle Camps offer a variety of programs designed to share this powerful experience with others, whether it is school groups, teen summer camps, travel programs, or adult retreats.
https://www.seaturtlecamp.com/
Wrightsville Beach Parasail Company
Want to soar over the Atlantic Ocean and see the sights from a whole new perspective? Then Wrightsville Beach Parasail Company is perfect for you! They've been in business since 1998 and sent over 5,000 people up in to the sky!
https://wrightsvilleparasail.com/
The North Carolina Aquarium at Fort Fisher
The North Carolina Aquarium at Fort Fisher attracts thousands of visitors each year. This outstanding attraction is deservedly one of the most popular in the area. Featuring a 235,000-gallon saltwater tank, the aquarium showcases both fresh water and salt water aquatic life. The focal point of the Aquarium is the Cape Fear Shoals exhibit. The huge, two-story tank displays a vast array of sea life including moray eels, stingrays, sharks and grouper plus a multitude of other varieties of sea life. At feeding time, divers underwater answer questions from the audience as they feed the fish. There are more than 2,500 sea creatures are on display at the North Carolina Aquarium at Fort Fisher.
https://www.ncaquariums.com/fort-fisher
Poplar Grove Plantation
Spend a day exploring one of the oldest surviving peanut plantations in North Carolina. The plantation is home to fun events including a farmers market, cooking classes, field trips, plant sales, tours, an animal farm and so much more. Learn about the history of Poplar Grove and enjoy all kinds of family fun!